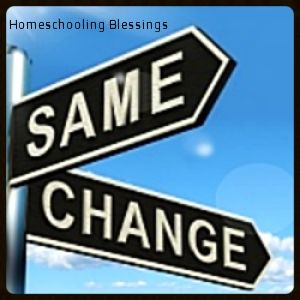 I've been thinking, based on this homeschool year and previous years, how I want to handle next school year. I know that we will continue to homeschool. We made that commitment a long time ago, so there's no question about that. But I am considering making some pretty major changes to what we're doing--at least with my 16-year-old son.
I've been homeschooling now for about 16 years. I started when my oldest child was only 2 with an intensive home program for her. (She's autistic, and I had to begin really early teaching her since she didn't pick up on things like most kids do.) I guess I always thought that one day I would get this all figured out and not have to keep making changes from year to year! The longer I homeschool, though, the more I realize that homeschooling often means being willing to make changes. After all, one of the reasons most of us homeschool is so we can do what's best for each of our children, right?
The idea of changing things up a lot is still a little bit scary, even after all these years! But I see some areas that my son needs to improve on before graduating, and that means I have two short years to help him. So I'm making plans now to be sure he learns what he needs to know (or at least as much as possible) before his homeschooling years are over.
First of all, I've realized that my son just doesn't have the life skills he will need in the future. I've made him help in the house some, but I haven't required nearly what I should have for him to learn how to really take care of himself. He needs to know how to cook at least basic meals, clean the kitchen, do laundry, shop for groceries, take care of basic home repair jobs and car repairs, and so many other things! These sound like simple tasks because we moms know how to do them all with ease, but my son isn't skilled at any of these!
Second, we are really going to have to concentrate on writing skills. Writing is my son's least favorite thing to do! He doesn't simply dislike writing, he loathes it! We've used several really good writing programs over our school years, and he has enjoyed them for a while and then (barely) tolerated them after getting tired of them. I know he has learned some things about writing and can be a good writer when he wants to. The problem, though, is that he needs to practice his writing until it becomes second nature to him. He won't have unlimited time to write a research paper in college. He may have to do writing projects for his job one day, and he won't have unlimited time there either. He also tends to use bad spelling and questionable grammar when he writes. It's not because he hasn't learned to use correct spelling and grammar. It's just that he doesn't want to put that much effort into his writing. He needs to get past that.
Third, he needs to catch up some on math. He is about 2 years behind where he "should" be in math. Again, we have used some wonderful math programs over his school years, but the problem has been his attitude toward math. He has always resisted doing math. Always! For that reason, I haven't ever pushed him as hard as I needed to in that subject. I'm not saying we homeschooling moms need to force our kids to do millions of math problems each day until they're completely miserable, but I haven't required from him what I should have in this area. His resistance caused me to give up sometimes (or at least to lower my expectations), and I need to be sure has has the basic math skills he'll need in life.
Fourth, he needs to learn to make money, save money, and spend wisely. I guess this could be a part of the "life skills" I mentioned earlier. I want him to learn about finances, how to handle his money well, and how to save money and stay out of debt. When my husband and I got married, we had both worked part-time jobs for years while we went to high school and full time jobs while we went to college. We had no idea, though, how to handle our money wisely. We suffered because of that for many years after we were married. We did the best we could with the knowledge we had, but we had simply never learned anything about how to handle our finances, so we made some huge mistakes during those first few years of marriage when things were financially difficult for us. I don't want that to happen to my son.
I think what I've decided to do this fall when we begin our new school year is to concentrate on the things I've listed here while still having him do his basic classes independently like he's been doing. He doesn't need my help (well..maybe on rare occasions) with history, Bible, literature, and other similar classes. He does well on his own, and I simply monitor his progress and make him accountable for his work. I think, though, that I will have to take more one-on-one time with him in the areas I listed above. I need to make sure he really learns the skills he'll need to live life when he's not under my roof any more.
The truth is that I knew very little about any of the topics I listed here. When I got married, I had no idea how to cook (although I'd had tons of experience cleaning the kitchen!). I knew how to fold, hang, and put away laundry, but I knew very little about sorting it and washing and drying it. I knew almost nothing about money and finances. And there wasn't a big emphasis on writing back when I was in school, so I never had much instruction on that. As far as math is concerned, I did know the basics and have done decently well with that. I definitely could have used more teaching on math as far as it relates to money and finances, though.
I guess what I'm saying is that, I've given my son 10 years (11 if you count kindergarten) of good academic instruction in most subjects. For these last couple of years, though, instead of continuing in our familiar routine, we're going to make more changes to make sure he knows what he needs to know (as much as any parent or teacher can, anyway) to live his life. It's kind of a scary thing to change things up after homeschooling for so many years, but like I said, part of homeschooling is a willingness to make the needed changes as we go along.
So what about you? Do you feel like (at least for now) that your children are doing well and are learning what they need to know? Or are you looking at making some changes next school year? Either way, I hope you have a wonderful summer break (if you take one) and a successful school year this fall. It will be here before we know it!