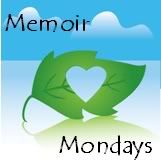 1. Do you like rainstorms? Why or why not?
2. Describe the most serious illness or accident that you have had.
As I sit here on Sunday afternoon getting this post ready for Monday, the sun is shining brightly, and it's hot outside. There are a few clouds in the sky, and it looks like there might be a slight possibility of rain. I sure hope it will rain! We really need it. We saw a few drops of rain on our way home from church, but it was certainly a far cry from the rain shower we could use so badly.
The Memoir Monday topic for today asks if I like rainstorms and why or why not. At this particular moment, I would love a rainstorm! The truth is that I really do like rainstorms a lot. I don't ever remember being afraid of rain or thunderstorms even as a child. I suppose I probably was afraid at times, but it must not have been too bad or I suppose I would remember it.
For quite a few years as an adult when my family and I lived in a mobile home I didn't like severe thunderstorms--especially during the night--because I was worried about everyone's safety. Since we built our house almost 3 years ago, though, it doesn't make me worry any more. In fact, unless it's a pretty severe thunderstorm I normally can't even hear it from inside the house.
One new "tradition" that my youngest daughter, Mary Grace, and I began after we moved into our house was sitting on the front porch in our rocking chair (usually she sits in my lap) and watching it rain whenever we possibly can. We'll even stop doing school or stop doing our chores or whatever it is we're up to so we can go outside and watch and listen to the rain together.
The reason we started the new tradition is that, since Mary Grace was born during the time we lived in the trailer, she had never lived in a house with a porch until we moved in here. When we lived in the trailer we used to leave the storm door (a solid clear plastic door) closed and the wooden door open and watch it rain. Now that we have a porch, though, we like to actually go outside so we can hear it and experience it together. It's one of those things I hope she will remember when she grows up as a "normal" time that we made into a special time.
So I suppose my answer to the first Memoir Mondays question is that yes, I do very much like rainstorms. :)
As for the second question, I am thankful to say that I don't remember ever having a very serious accident or injury. I have been in several car accidents, but nobody was seriously injured. (Unless you count my nerves. Two different times I was hit on the side of my vehicle by somebody pulling onto the road and not looking carefully before he pulled out. Even now, years and years later, I still get startled easily when somebody pulls onto the road from a side road and gets too close to me!)
As far as serious illnesses go, I've never had a terribly serious illness either. I do have pretty severe TMJ, and I did have surgery for that almost 20 years ago. I also had my wisdom teeth out. I've had the usual childhood illnesses like chicken pox (before they began giving that silly vaccine). I don't ever think I've had anything any more serious than those things, though.
Unfortunately, it's my children who all suffer or suffered from the serious illnesses in my family. My oldest child (now age 15) has autism. My middle child (now age 13) had a very serious blood clotting disorder as a 3-year-old. In fact, he wasn't supposed to have lived through it, but he did. I believe that God saved him for some special purpose. (I remind myself of that when he's driving me crazy!!) My youngest child (now age 7) is the only one of the three who has never been seriously ill.
Now I think I'll go sit out on the front porch and see if it will rain so Mary Grace and I can enjoy it together. Even though you won't see this post until Monday, I sure hope you enjoyed your Sunday afternoon and that you have a wonderful week!