You can't be too careful about internet safety! My teens do a good bit of their homeschool work on the computer on a daily basis. I use my computer to work from home. My younger daughter loves to play games on the computer. I worry that my children (or even my husband and I) will come across information and photos that are not appropriate. And once that kind of website has been viewed (even accidentally), that "picture" stays in the viewer's mind. There's nothing that can be done to reverse what was already seen.
I was given a Maximum Protection Action Alert account to try out and review.
The "regular" Action Alert account is available to anyone at no charge.
The Maximum Protection account normally costs $29.99.
There are 8 main functions of the Maximum Protection account.
You can see those functions listed below.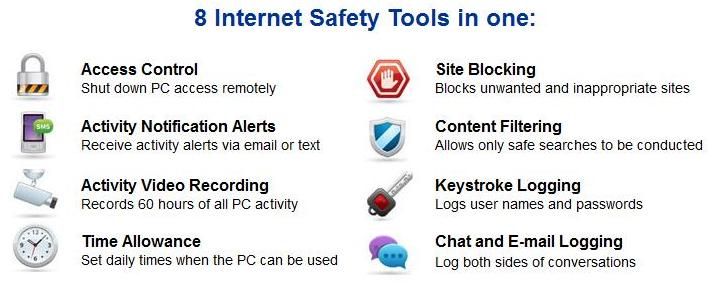 I didn't have any trouble downloading the product.
I also didn't notice any problems with my computer after downloading the product.
I installed it on both my laptop (which I use for work and which my younger daughter uses--along with me--for some of her homeschool work) and my son's laptop (which he uses mainly for his homeschool work and occasionally just for fun).
One of my very favorite features is the ability to see the videos of everything that was shown on the screen of a particular computer. This has come in quite handy! One great advantage of this is that it allows me to see what my teens are doing on the computer at any time. I'm not concerned about my teens going to inappropriate sites on purpose. I am concerned, though, that they are staying on-task even when I'm not right there to watch over them as they do their work.
For example, one of my teens was supposed to be doing homeschool work, but instead that teen (who shall not be named) was playing games and occasionally checking emails. Were those harmful activities? No. Was my teen supposed to be playing games and checking emails during school time? No. Watching the video gave me the ability to let my teen know that, during school time, games and emails are not to be done. I think it's good for children of all ages to know that they are being supervised by parents who love them. It helps them decide to make good choices and to resist temptation.
I also love the ability to be able to block specific websites. Some sites may seem harmless to some folks, but they may be sites that, for one reason or another, I don't want my children to have access to.
Another thing I really like is the ability to monitor both sides of chat sessions and emails. Sometimes it's not that I'm worried that my children will type inappropriate information, but I may be worried that the people they are chatting with or emailing might do so! I try to closely monitor and make sure my children only email and chat with folks that I know of and approve of, but I still like to be able to double check that the conversations that are going on are innocent.
To be totally honest about this product, I have to mention that I "tested" some sites to find out if Action Alert would let me go to websites that should have been blocked. Unfortunately, I was able to get to a few sites that definitely should have been blocked. There were other sites that were blocked by Action Alert. I think if I had set up the account to block specific words that the sites I typed in would have been blocked. I think, though, that there are some words that, if typed into the browser, should automatically be blocked whether or not I added them to be specifically blocked.
The good news is that I have the ability to see the video of the screen, so I would have known if anyone had gone to sites that should have been blocked.
The bad news, though, is that the damage would already have been done because the website would have already been viewed.
So I suppose I'd say that this product definitely has some good points and some advantages. It also has some weaknesses that parents need to be aware of if they use it.
If you'd like to see more reviews of this product, visit www.homeschoolcrew.com.
or go directly to the reviews of Action Alert by clicking

here

.