My son loves to argue. A lot. I never really knew what to do with this "skill" or how to turn it into something positive. I also never really thought about the difference between quarreling and arguing. I found this quote (which I got from the Classical Academic Press website) that gives a hint about the difference: "My chief objection to a quarrel," Chesterton wrote, "is that it ends a good argument."
I want my son to use his ability to argue in a positive way. I want him to use it to defend his faith and to stand up for himself when others try to get him to go along with the crowd to do something he shouldn't do. I know that God can use his personality and his strengths in a positive way. Knowing all of this, I was really glad to receive The Art of Argument bundle from
Classical Academic Press
.
The Basic Bundle sells for $88.95 and includes The Art of Argument: An Introduction to the Informal Fallacies, a Teacher's Edition, and an introductory DVD.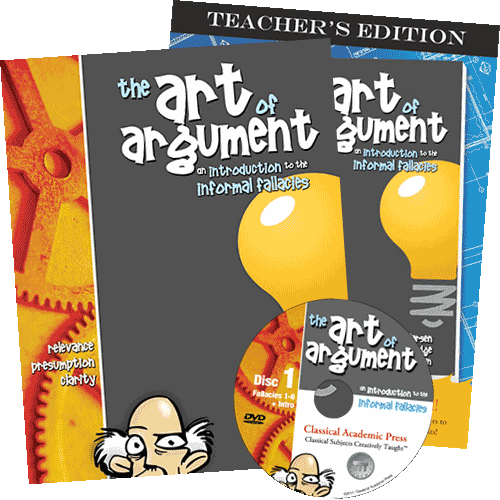 Before I continue, I should tell you that my son and I love logic! I find studying logic to be lots of fun and very interesting. And besides that, there is so much wonderful information to be learned--lots of which my son and I might never have even thought to learn if we hadn't done this logic class. I was never given the opportunity to study logic when I was in school, and I'm so glad that I can provide this opportunity to my children.
I do have a word of warning for you parents, though. If your children are going to be learning logic and you haven't studied it yourself, you might want to learn along with them like I did! If you are teaching the class yourself, it won't be a problem. If your child is older and does his work on his own, though, you'll want to get familiar with what he's learning. You don't want your child to be "armed" with logical information that you don't have!
This logic bundle from Classical Academic Press has been such a wonderful blessing to my son and to me! One of our favorite things about it is that it's so entertaining! There are lots of cartoons, illustrations, and examples throughout the book. Not only do they help teach the concepts, but they also make learning so much more fun! We tried a different logic program a couple of years ago, and it was a little bit dry and boring. My son wasn't so happy about trying out this program because of his past experience with the other logic class. He quickly realized that this program was so much better than the other one! He actually enjoyed this one! And I honestly believe that we retain much more of what we learn when we enjoy learning it.
You may want to visit the Classical Academic Press Facebook page at
www.facebook.com/classicalacademicpress
. They also have a Student Support Site at
www.headventureland.com
.
If you'd like to hear reviews from other folks who tried out this curriculum, you can do that at The Old Schoolhouse Magazine's
Homeschool Crew site
.

NOTE: I received this logic program for free in exchange for my honest review. And after using this material, I can tell you that I would definitely be glad to buy it!