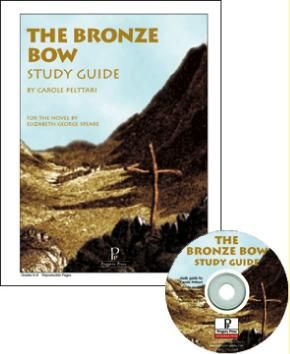 My children and I love to read! We have always loved to read. We enjoy reading books as a family, and I enjoy reading with each of my
children one-on-one as well. My children, of course, enjoy reading books on their own as well.
Sometimes we read books just for fun. Other times we want to get a little more in-depth. I've found that Progeny Press study guides are great for those books that we want to dig into a little deeper.
I received two literature guides from Progeny Press in exchange for using and reviewing the guides. I chose the guides to go along with The Bronze Bow and The Screwtape Letters.
I remember reading The Bronze Bow years ago, and I loved it! For that reason, I thought my son (now age 15) might enjoy reading it and using the study guide as well. We enjoyed both the book and using the study guide! I'll give you a little information about the guide, and you can also see a few sample pages

here

.
The guide is geared toward students in 6th-8th grades, but most guides like this can be adapted for students a little higher or lower than the "target" age/grade.
The guide begins with a synopsis of the story. It includes some information about the author too. I like for my children to know a bit about the authors of the books they read. I think it helps them to understand that the authors were ordinary people just like we are. It can also give some insight into the book.
There are fun activities to do, such as crossword puzzles. There are optional activities such as research projects, writing poetry, and much more. And there are plenty of good discussion questions which help the student understand not only what happened but also the deeper meanings behind the events and actions in the story. One of my favorite things about these study guides is how they include Scripture and allow the student to understand the events from a Biblical perspective.
The other guide I chose was for The Screwtape Letters. This book (and therefore this study guide) was totally different from The Bronze Bow, but we enjoyed it just as much. It too includes questions, activities, optional projects, an
d in-depth study. This guide is geared toward student from 9th through 12th grades. To take a look at some sample pages, click
here
.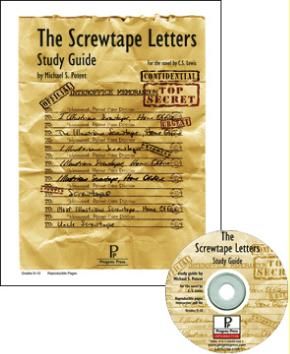 Each guide is available as a printed and bound booklet, on a CD in .pdf format, or as a .pdf file in an email attachment. The prices vary from one guide to another and from one format to another. For example, the bound printed booklet for The Bronze Bow costs $18.99. The CD is $16.99; the email attachment is $16.99; and the combination CD & booklet are $23.99.
For The Screwtape Letters, the printed and bound booklet costs $21.99; the CD is $18.99; the email attachment is $18.99; and the combination CD & booklet are $27.99.
I can honestly say that I do recommend these guides to homeschoolers and even Christian schools. I definitely think there should be time for reading just for fun, but I also think it's very important to go more in-depth at times, and these guides will make it much easier to do that. They will also make it more fun without causing the parent/teacher to have to come up with activities or to study ahead of time. As a busy homeschooling mom myself, I realize it's not always possible for me to pre-read and prepare questions and activities ahead of time, and I'm thankful to know that these Progeny Press literature guides are available!
If you want to read some reviews done by other homeschooling moms for these books and/or other titles as well, you can do that

here

.