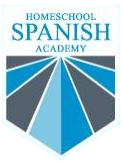 I recently had the opportunity to try out 7 weeks of Spanish lessons from the Homeschool Spanish Academy, and it was the perfect time to try them out! My plan was for my 9-year-old to try out these lessons over the summer. Then, if the lessons went well and she wanted to continue, I would allow her to continue during the school year. I was very blessed as part of The Old Schoolhouse Magazine's Homeschool Crew to be given the opportunity to let her try out 7 weeks of lessons for free in exchange for writing this review.
Because we usually get to choose which products and services we try out for the Homeschool Crew, I most often do enjoy the things I review. Of course I enjoy some of the review items a lot and others not as much, but I usually do enjoy what I review. In this case, I totally and completely enjoyed every lesson with my daughter! I absolutely give this program my highest praise.
I asked Mary Grace what she wanted me to say about Homeschool Spanish Academy in my review. She thought for just a moment and said, "Tell them it's great and that I love it!" And I agree with her!
Here's how it works. We had one lesson each week. (I say "we" because, at Mary Grace's age, I sat with her at the computer for each lesson just to supervise. Since she was just getting started, I wanted to know what she was doing so I could help her during class or with homework if needed. It was not required that I attend lessons with her, but I chose to do so.) I went online and scheduled each week's lesson. Then, on the day/time of the lesson, we went to Skype and watched for her teacher to send us a video call request. We accepted the request, and the lesson began.
Because Mary Grace was brand new at Spanish, the teacher gave most instructions in Spanish and then repeated them in English. As Mary Grace learned more Spanish, the teacher began to give instructions only in Spanish and repeated them in English only if necessary. I loved that because it gave Mary Grace a chance to begin to stretch herself and learn more than just the words being specifically taught in the lesson. Also, it made Mary Grace so proud when she was able to listen to Spanish instructions and follow them without English interpretation.
Once the lesson began, the teacher could put illustrations on the screen for us to see. That way we could see the pictures of the items we were learning instead of seeing the English words and translating them into Spanish. I like this method much better than translating words because, instead of seeing a picture, thinking of the English word, and translating it into Spanish, she learned to see the item and automatically think of its Spanish name.
There are videos available to see more details on how a lesson works, so I won't include all of that information here. You can click
here
to see an adult tell about her class. I didn't find videos of younger children using the program, but I can tell you from my experience that it is a great fit for younger children up to adults.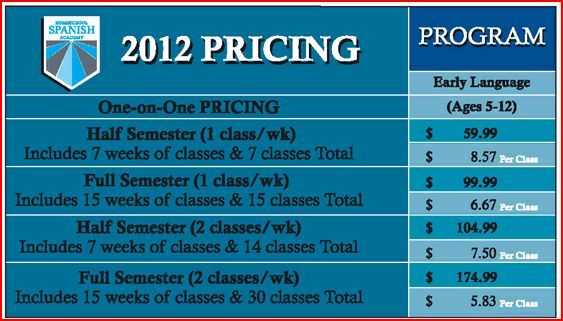 Pricing for the class is based on whether the student is taking beginner, intermediate, or advanced lessons. Since Mary Grace is a beginner, you can see the pricing for her level in the graph above. If you have two students who will be doing the same level, you can get pricing for that as well. There are also graphs showing prices for intermediate students (for 1 or 2 students) and for advanced (for 1 or 2 students). All of those can be found on the
Homeschool Spanish Academy website

.
I encourage you to take a look at their website for more details about the program.
The only real drawback to the lessons (in my experience) is that some people who don't have a fast enough computer or who aren't able to use Skype can't do the lessons at all or might not be able to do the lessons with video capabilities. The lessons are do-able with audio only, but it is definitely better to do them with audio and video. For audio-only lessons, the teacher can email the lesson material to the student ahead of time so she can look at the pictures as they talk instead of the student seeing the material on the screen.
My daughter will be continuing with her Spanish lessons because we found them to be so wonderful! Of course our review period is over, so we will have to pay for her lessons from now on, but she's learning so much and enjoying her class so much that my husband and I decided it's worth it!
You can find more reviews by other Crew members by clicking the button below. Be sure to check out some of them--especially if you have a child in a different age category than mine.