It's so much fun trying out new apps on my iPad! Sometimes even when I download apps for my children, I have just as much fun using them as my children do. It's especially nice when I come across educational apps that they really enjoy. My kiddos are old enough to know when they're using an "educational" app, but as long as it's fun, they don't mind. ;)
I've been trying out an app from the Mobile Education Store recently. It's called Rainbow Sentences. The app is designed to help students learn to write sentences that are grammatically correct. It uses color-coded words (or groups of words) to help the student know where the words or word groups should go in the sentence. It has 3 levels of complexity, too, so that your child can start on a very easy level and progress as his skills improve.
I love that there are several options available as far as settings are concerned. The settings that may be turned on or off include: audio instructions, correct answer reinforcement, record correct answer (an audio recording of the child saying the sentence), line color coding, word color coding, and word grouping. You can see from the screenshot below how the words can be color coded. As the skill level increases, there are groups of words that can be color coded or not--depending on your preference and the child's mastery level. I really like that you have the option of using the color coding or not. I enjoy using "helps" like color coding at first, but I like to fade out those prompts after a while.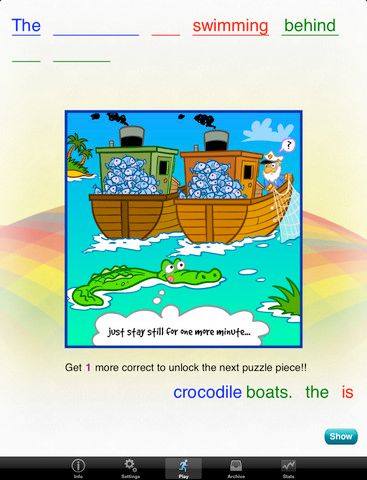 You can see that the cartoon-like pictures used for the activity are really cute! My youngest child is 9, and she loved them! I did too, to tell the truth! Because the pictures are so colorful and interesting, the game seems much more like a game that is for fun rather than an educational game.
I tried this app out myself, then I let my 9-year-old daughter try it out, and finally I tried it with my 4-year-old nephew. As I said, I loved the game and played it for a while checking out the features and how it works. My 9-year-old loved it for a while too. She's an excellent reader, though, and soon got tired of it because it wasn't challenging for her. My 4-year-old nephew, however, absolutely loved it!!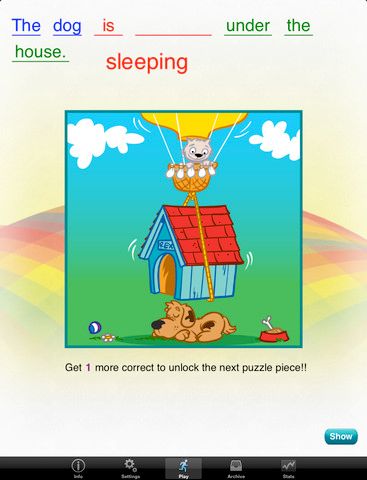 One of his favorite things (besides the colorful pictures) was that he could record himself "reading" the sentence each time he completed a new sentence correctly. He was positively gleeful as he recorded and listened to himself after completing each new sentence. At his age, and because he's not yet beginning to read, he definitely needed the color coding "prompts." He wanted to do the sentences independently, but even with the color coding he still needed some help. Over all, though, he loved it and did a pretty good job too!
The main drawbacks I noticed were first of all that my nephew got a little bit "hyped up" because he was so excited about the pretty colors and the ability to record his own voice. I think that if he used the game regularly, though, it would become something he enjoyed but wasn't so hyped up from playing.
The other thing that he had trouble with was that, as he touched each word to drag it to the correct blank, he often "missed" the word he was trying to drag. It was a little bit difficult for him to get his finger right on the correct word and drag it into place. Again, though, I think he would have had less difficulty with that if he hadn't been so excited from playing it for the first time.
The only thing I noticed that I'd really like to see changed is that it takes so long for a student to make enough progress to get a reward. The student must complete 5 sentences correctly in order to earn one puzzle piece. Once the entire puzzle (about 12 pieces) is completed, the puzzle "comes to life" and some kind of fun little animated scene is played out. For some children, they might be able to wait that long for reinforcement. Others, however, might get burned out if they have to wait that long. It would be really nice for the parent or teacher to be able to set the number of sentences and the number of puzzle pieces necessary to earn a reward.
I absolutely would recommend this app to anyone who has a beginning reader or an older child who needs some extra help learning to form grammatically correct sentences. It's a fun game with great pictures and fun reinforcement. You can see more information about this game and others at the
Mobile Education Store
. The
Rainbow Sentences
app sells for $7.99.
You can see additional reviews of Rainbow Sentences and some other educational apps at the
Schoolhouse Review Crew
site. Have fun!

NOTE: I received this app for free in exchange for using the app and writing this review. I received no other compensation. The opinions expressed in this review are my own
.