Have I told you how much I love
Apologia
's Exploring Creation books? I do! They are wonderful! And I'm not the only one in my house who loves them. My kiddos love them too!
My 5th-grade daughter and I recently had the chance to review
Exploring Creation with Human Anatomy and Physiology
written by Jeannie Fulbright and Brooke Ryan, M.D. We have done most of the other books in this series, and we were so happy when this new one came out! We also got the
notebooking journal
and
MP3 audio CD
to go along with the book.
This book, part of the Young Explorer Series, is aimed at students in elementary grades. I personally think that the books are probably best understood by students who are at least at 2nd or 3rd grade level. I have a nephew who is only 5, though, and he loves these books! He doesn't understand everything in them, but it is surprising how much he does understand and remember. If I had little ones in the house, I would definitely encourage them to listen as I read (or as big brothers or sisters read) lessons from the book.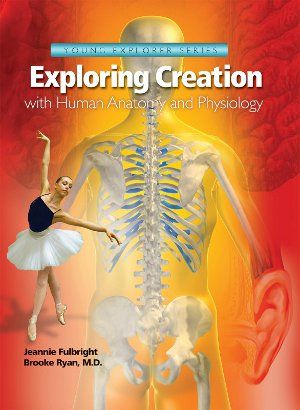 The only problem we had with this curriculum was that my daughter wanted to sit down and do the entire book and notebooking journal at once! She enjoys the books, but the notebooking journals are her absolute favorite! She has always loved making things, drawing, cutting and pasting, and anything "crafty," so the notebooking journal really made the book extra fun for her. I'm sure it helped her remember a lot more of what she learned too since she got to put the information into action.
Having fun with the notebooking journal activities!
School work is much nicer with a friend!
We received the MP3 audio CD, which was such a nice addition to the book and journal! Because it is an MP3 audio, it must be played in a computer or MP3-compatible CD player. Sometimes Mary Grace likes to take the audio CD to her room to listen to while she looks at the book, so it's good that we have an MP3-compatible CD player. The CD is very nice to listen to! It is very clear and easy to understand. I enjoyed reading the book along with my daughter, but because she wanted to listen to the information over and over, the audio CD was great! She can read the book herself, but she sometimes likes to listen to it while she does other things. Also, I think the CD helped make the text more understandable since she didn't have to struggle with words she didn't know how to pronounce.
There are lots of topics covered in this book! The lessons cover everything from the skeletal system to the nervous system to senses, nutrition, and growth and development. It's really amazing to me how much information is packed into it! And it is all explained in a way that my daughter understood most of it without me having to add a lot more explanation. And because she really enjoys learning about the different systems in the body and how they work and work together, this came at the perfect time for her.
I did wonder how the information about growth and development would be handled. I thought the author handled this so well! She began by explaining that each person's life begins as a single cell, and then she went on to explain how those cells divide and how the baby continues to grow until it is ready to be born. For those who are doing this book with younger students, I think there is just enough information presented. For those with older (or more curious) students, it provides a good place for the parent(s) to give as much (or as little) information as you think your child is ready to know.
A fun activity about bones.
This series of science books, the Young Explorer Series, is simply one of my very favorite curriculums ever! The texbook costs $39. There are two notebooking journals to choose from, and they each cost $24. The "regular" notebooking journal, which is the one we used, is for older elementary students (around 4th-6th grade) or those who have good writing skills. The "junior" notebooking journal is for students who are younger than 4th grade or who have limited writing skills. (If I were using this with my autistic daughter, I would probably use the junior journal with her even though she's 17 because it requires much less writing.) The MP3 audio CD is $29.
The notebooking journal and audio CD are absolutely not necessary. The textbook is wonderful on its own. I definitely recommend the journal and audio CD, though, because they add so much more fun to the book! My daughter actually begs to do science every day! And she's learning so much! (In fact, I'm learning quite a bit myself!)
If you'd like to read more reviews of the anatomy & physiology book or of the three zoology books that are available in this series, you can find them by clicking on the button below. Enjoy!


Disclaimer: I received a free copy of this product through the Schoolhouse Review Crew in exchange for my honest review. I was not required to write a positive review nor was I compensated in any other way. All opinions I have expressed are my own or those of my family. I am disclosing this in accordance with the FTC Regulations.